Wye Valley Walk posts...7 days...Herefordshire to Wales.
Day 1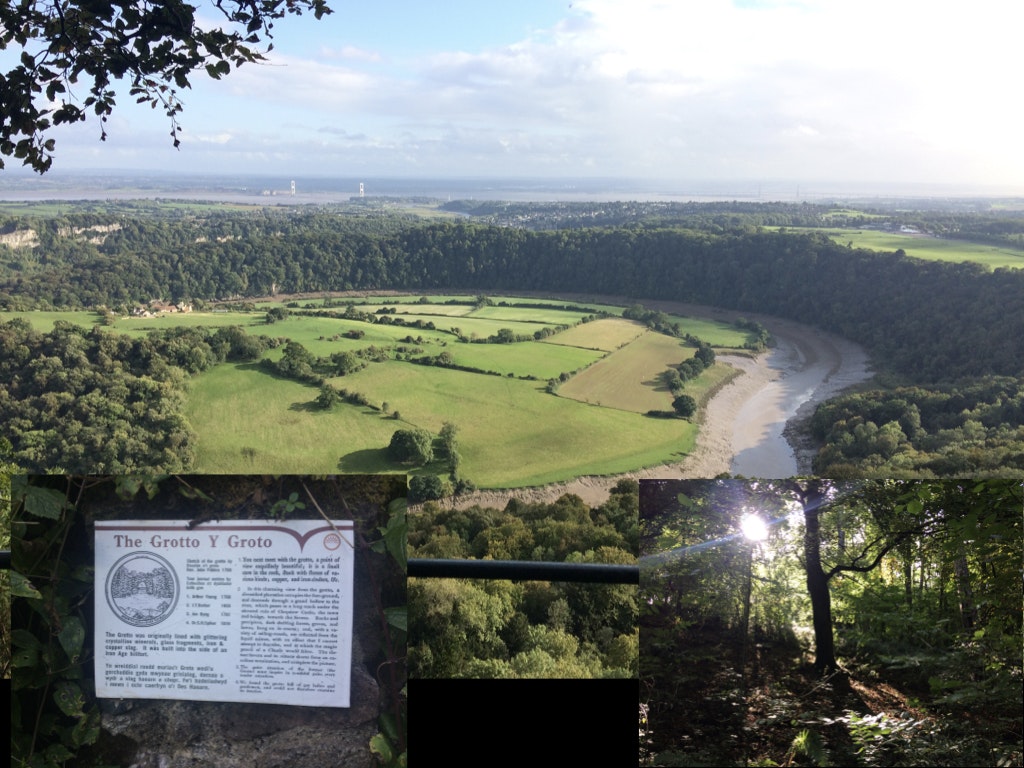 Wye Valley Walk -103 miles over 6 days - beginning in Chepstow. This is where British tourism began in the late 1700's and the Romantics like Wordsworth found their inspiration. I love the grotto and the inscription - from around 1780 - clearly of its time but glad to be gay...The hike features stunning vista's like the Severn and Wye and Severn Bridges. 23 miles tomorrow all the way to Kern Bridge. Let's hope it's not a Bridge too far. Dreadful pun. I must get away from these allusions to movies I've never seen.
Day 2
24 miles. Made it to Goodrich. Vistas - wobbly bridges - beautiful renaissance like churches - feet like bricks
Day 3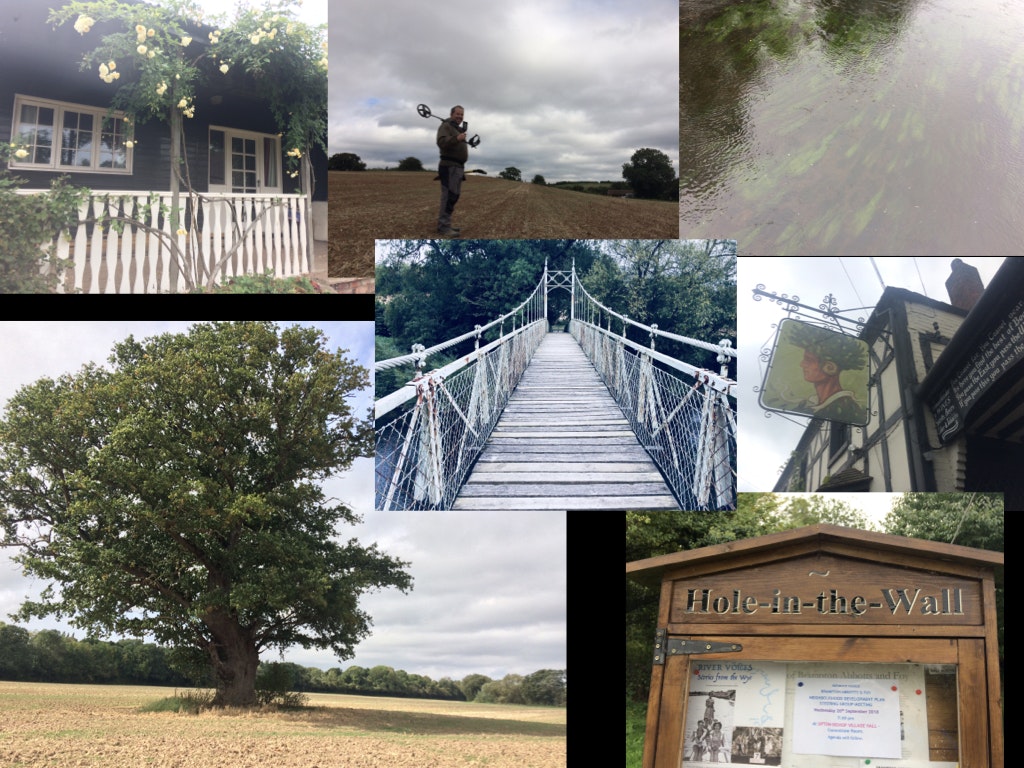 Wonderful hike today. Lots of encounters and memories - the Welsh lady at breakfast who called me a professional hiker (!), the couple from Yorkshire in the RV who offered tea, the hamlet called Hole in the Wall (the Hole in the Wall gang from the American West comes to mind), Foy Bridge - such a tranquil spot, the timber frame houses and red sandstone, the Greenman Pub in The Village if Fownhope where I am staying tonight - with a huge yea olde mythical England sign of a man with a green forest on his head like a demented Afro from days of yore. The rather posh lady who gave me a delightful description of her rose framed cottage - pictured - and directed me to the path past her home which led directly into a field full of prime Hereford long horn cattle (the ones that the old American West was once full of). Not sure who was more surprised.
Day 4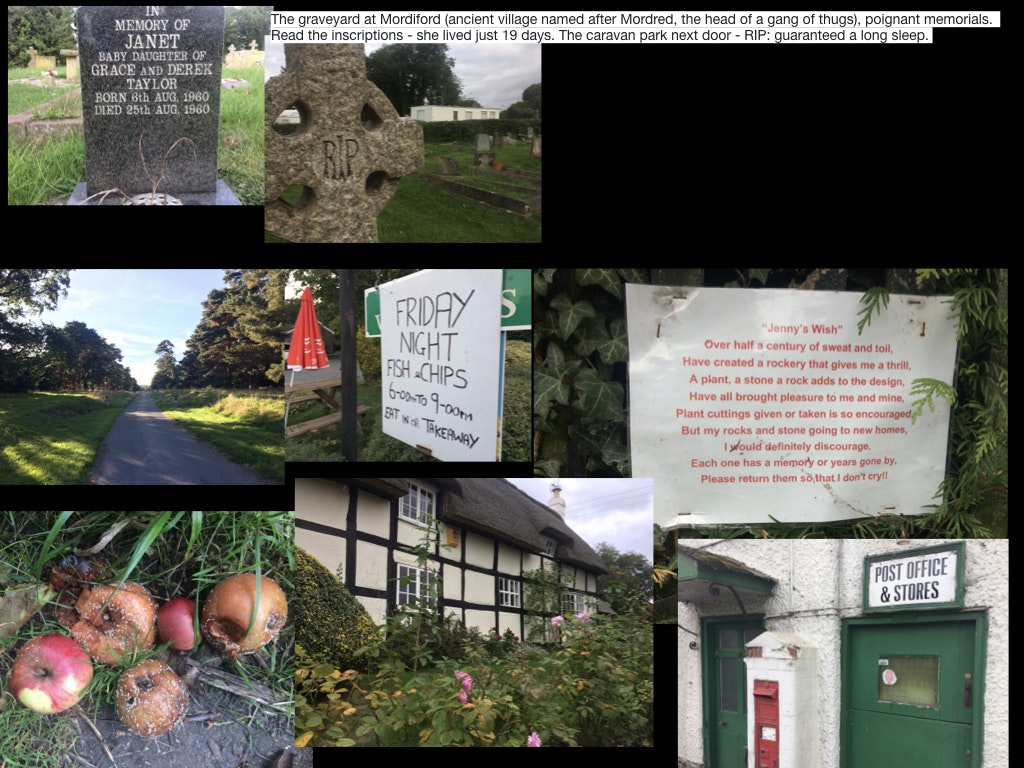 Cider apple orchards...that's all I can remember after 22 miles of exhaustion and exaltation. Love the notice beside a rockery facing the road. Glorious last two hours of evening sunshine bathing the country estate I walked through. Herefordshire is full of wonderful dwellings from the downright quirky to huge houses and the ubiquitous timber frame homes cloaked in roses…
Day 5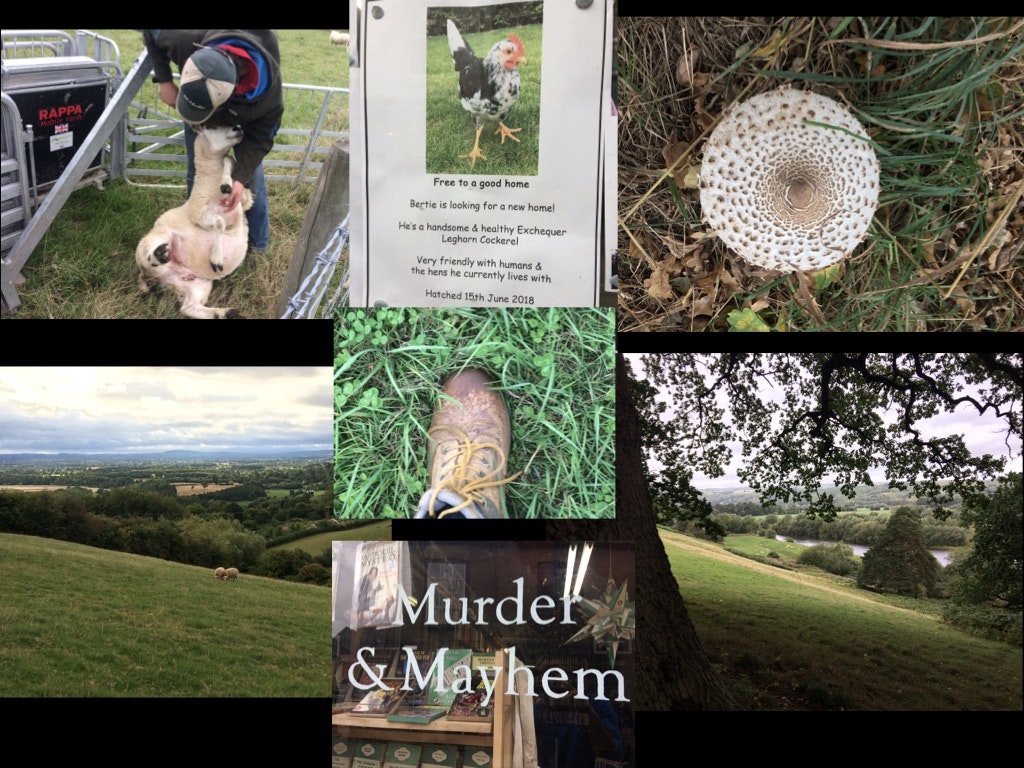 Another 22 miler. Walking deeper and deeper into Wales which means climb after climb. I'm ensconced in Linda's b&b surrounded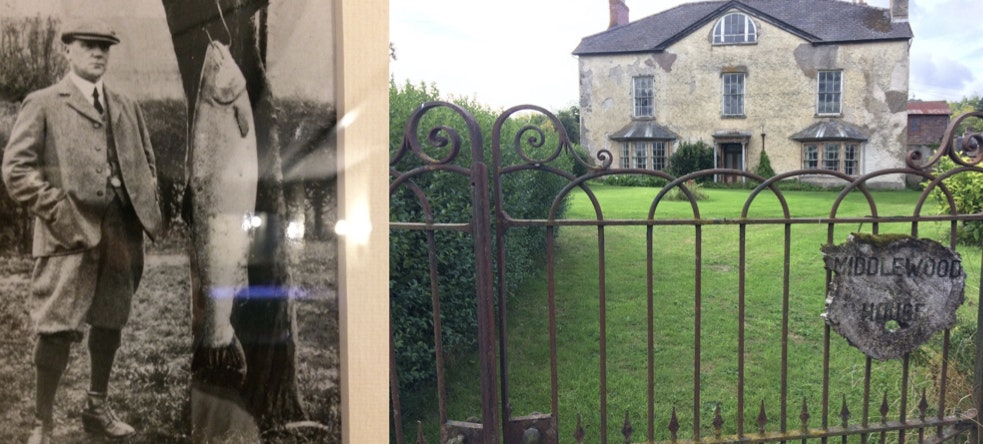 by her vintage collectibles and things that caught her eye. My bed is circa 1920. I feel I am on the set of the antiques roadshow. Met a vet injecting sheep's feet - they had gone lame, I pleaded with him to do mine. Met two farmers awaiting arrival of machinery in a tiny hamlet - see photo of decaying Georgian pile - one told me his brother lived alone in there (the family house) and he rarely came out though there had been a sighting earlier that morning. Raining cats and dogs here (a worry is the weather deteriorating but this is Wales so fair do's) in the wee little village of Erwood, surrounded by hills and the Wye below and a highway that passes through with nightmarish speeding hulking
great lorries carrying lambs to the slaughter. Not sure about Hay on Wye, very twee and very expensive (£5.50) for a capuchino and a cake) and full of bookshops - who knew? - but the newsagents noticeboard has lambs for sale and Someone is looking for a loving home for their fine cockerel. The hill above the town is called Lord Herefords knob. Other views - the Brecon Beacons and Black Mountains. The salmon weighed 50Ib - they were common in those days and the Wye built its reputation on such monsters.
Day 6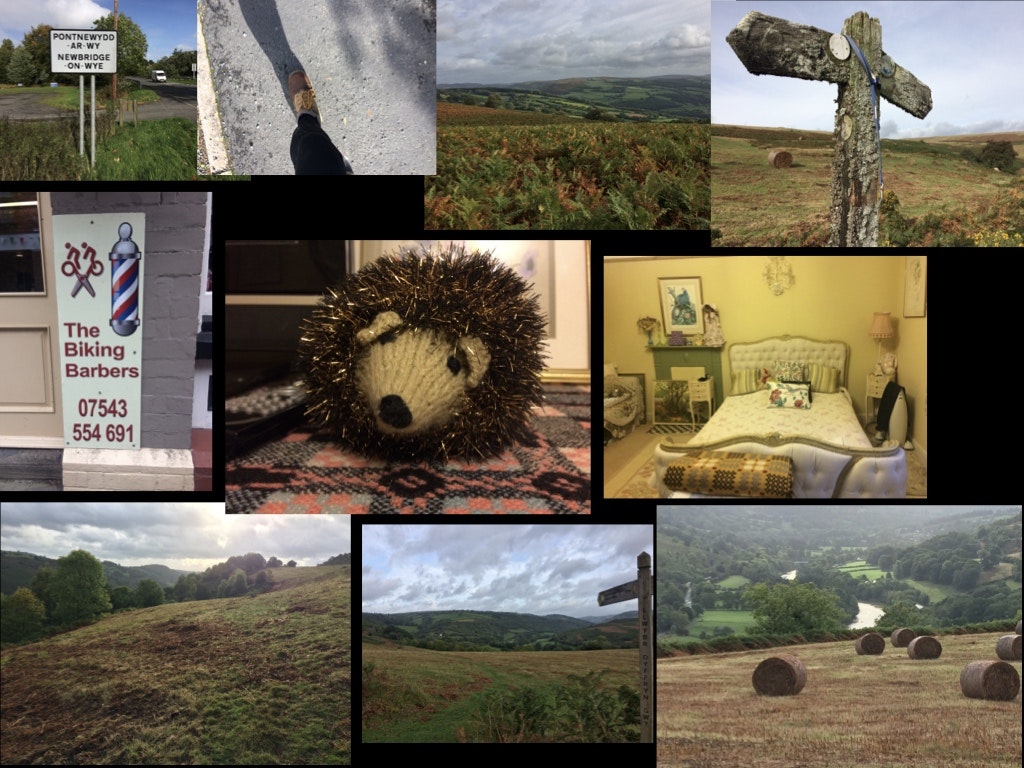 The last leg on my last legs - 14 miles and 1300 ft high at one stage, walking into a head wind of 60 mph which I believe is called Storm Ali. Highlights - waking up to Linda's knitted hedgehog, surely every bedside cabinet should have one, a stand-off with a lone but brave sheep (we both looked sheepish), the pretty little stations like back gardens on the Welsh train route back to civilisation, some amusing signage (don't get on the bull - it's a dangerous statue after all), getting lost and confused when at the highest point in gale force winds and wondering whether I should let the wind blow me to wherever; I became addicted to looked for way mark signs and almost hugging them with relief when I found one. Some glorious light shows across the Welsh hills and the Wye Valley below when the sun shone. It shone on Day 1 when I arrived in Chepstow - turned right out of the station and popped into Tesco; and came out on Day 6 at the culmination of the walk and I finished and yes, popped into Tesco. It's nice to know there's always a Tesco on hand as you hike the Wye Valley Walk - Every little helps. The joys of escaping civilisation. The last post of the last leg is officially over. It's been a blast.
Day 7
Lost in the Welsh hills or my arithmetic?
---
Tim Langford is an award winning freelance writer, tv director and corporate film-maker; with a reputation for visionary and innovative story telling techniques, flair and ideas. He's pragmatic, imaginative and client friendly.