The GR 7 Andalucia - From Los Barrios to Alhama de Granada. 10 days of sheer bliss, sheer heights and sheer drops.
Day 1, Stage 2 of the official route...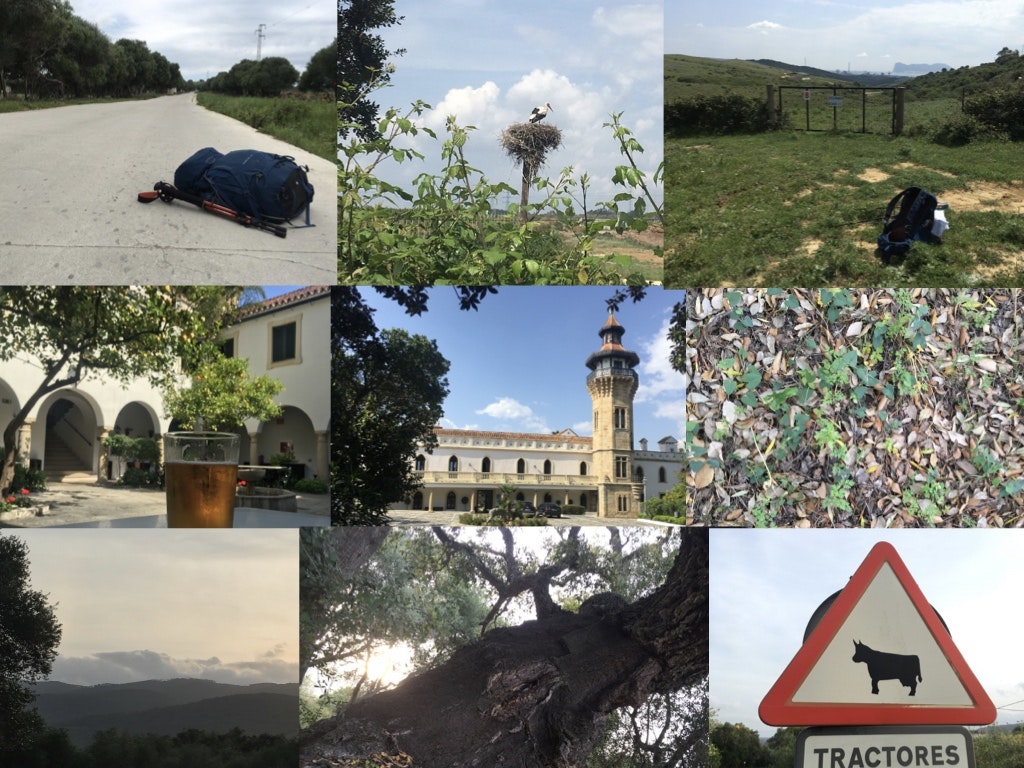 Day 1. Stage 1. Yes it's Day 1 of My obsession with the GR7/E4 hiking trail in Spain: starting out in Los Barrios near Gibraltar. Courtesy of an early Ryan Air flight and a taxi ride and the driver desperately trying to locate my hike co-ordinates. The mission this time feels like a survival course -13stages/285.6k/177.46m/78.5hrs/@10 17.74 miles per day over 10 days. So a few highlights: ending up in a convent (now a hotel I hasten to add) get thee to a nunnery...which is just devine. The area is home to Europe's second largest cork oak forest which dominates this region. So this is stage 1 for me but Stage 2 of the route. Yes - all the worlds a stage…
Day 2, Stage 2/3.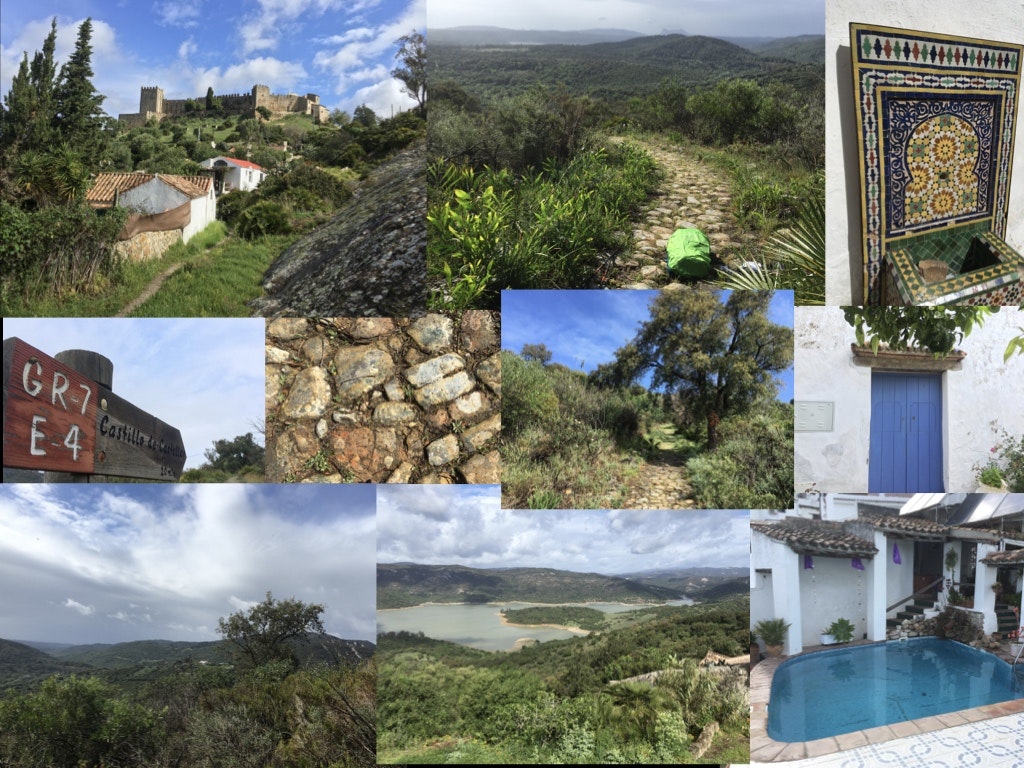 Day 2. Fabulous day - castles, vistas, pathways through tunnels of wildflowers 5 feet high. And all the while deep in a valley surrounded by luscious hillsides with knarley cork oaks and a head of me the mountains - a portent of what awaits me in the morning. Followed by the bird song of nightingales (I was informed by an English woman sitting outside her cottage) I don't think I've heard them before. Not another soul. Arrived in the hill top village of Jimena (they are all hill top in this part of the world) And staying in a rabbit Warren of a house with a roof top swimming pool! Just sat down to eat in their bar when a delightful child threw up violently in front of me. Think I will avoid the shellfish tonight…
Day 3, Stage 4.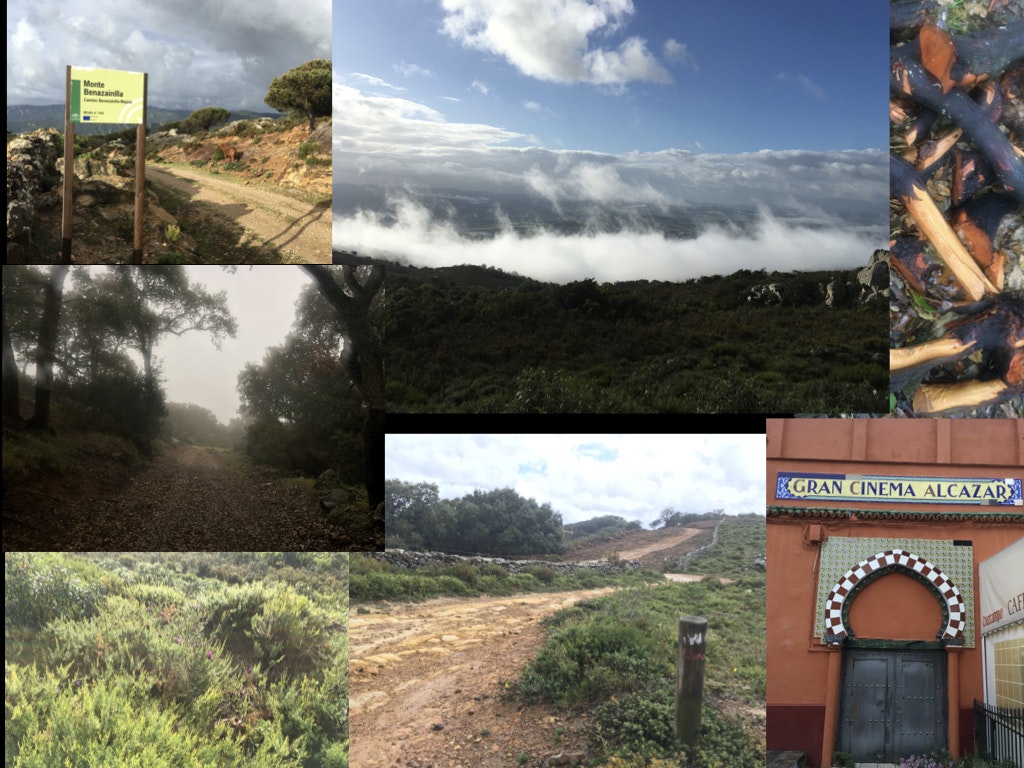 Day 3. Therein lies a tale or perhaps it should be titled 'How I came to be rescued by the man with the chanterelle mushrooms'...So this was gong to be a long 10 hour arduous walk through wilderness climbing to a 1000 metres in a remote area. I'd slogged up hill for 2 hours and the weather got rather wild, anyway after a while I couldn't see any way marks - I figured head north, I just kept going like a demented squaddie on a yomp on his first day. Well the route was mud, wading though treacle. Then I turned round thinking it's now 1 pm and I am lost. So plan B head back to where I started (3.30 hours away) admit defeat and get a taxi. Felt wretched. I retraced my steps, up hill through the treacle. Then I spotted where I had gone wrong and well now its 2.20 and I have a big dilemma. Panic has gripped me and a dreadful sense of giving in is weighing me down versus get back in the route knowing that I have another 7 hours of hiking and the chance I won't even get there. Then add in the exhaustion. Sod it I am going to turn defeat into a victory I decide and die in pursuit of this noble cause. So with an added spring in my step and chewing on a salami sausage I marched in the right direct. Glorious scenery. Utterly alone. At one stage I bumped into a family of huge wild boar. So I wasn't the only wild bore after all I thought. So hours go by and I'm exhausted and this journey never ends. I'm thinking maybe if I can get to a road I can hitchhike. Meantime my dodgy phone battery has died so I can't call the Spanish government and request a declaration of a state of national emergency. But I really did think I have to trust in fate...and then I walked past a beat up red car in the middle of no where but with no occupant. I carried on for another hour - who knows I'd lost track of time - and I kept thinking maybe that red car will just drive my way...And lo it came to pass that this car appeared like a celestial chariot and pulled over and I was beckoned in and the man was heading to the town of Ubrique where I was struggling to get to. This man - spoke not a word of English - in his disheveled car had a huge bag of chanterelle mushrooms that he insisted I inhale (he'd been picking them) and enjoy the aroma. Well beats Waitrose. It was clear too that I would of been walking (or crawling) for many more hours judging by how far we drive. He drove like a madman but I didn't care and he insisted on searching around the town looking for the hostel and dropped me outside and shook my hand and was gone. He really was my guardian angel and I don't even know his name - just the lingering smell of his fresh, wild chanterelles and the abiding kindness of strangers. Next time I will buy a map.

Day 4, Stage 5.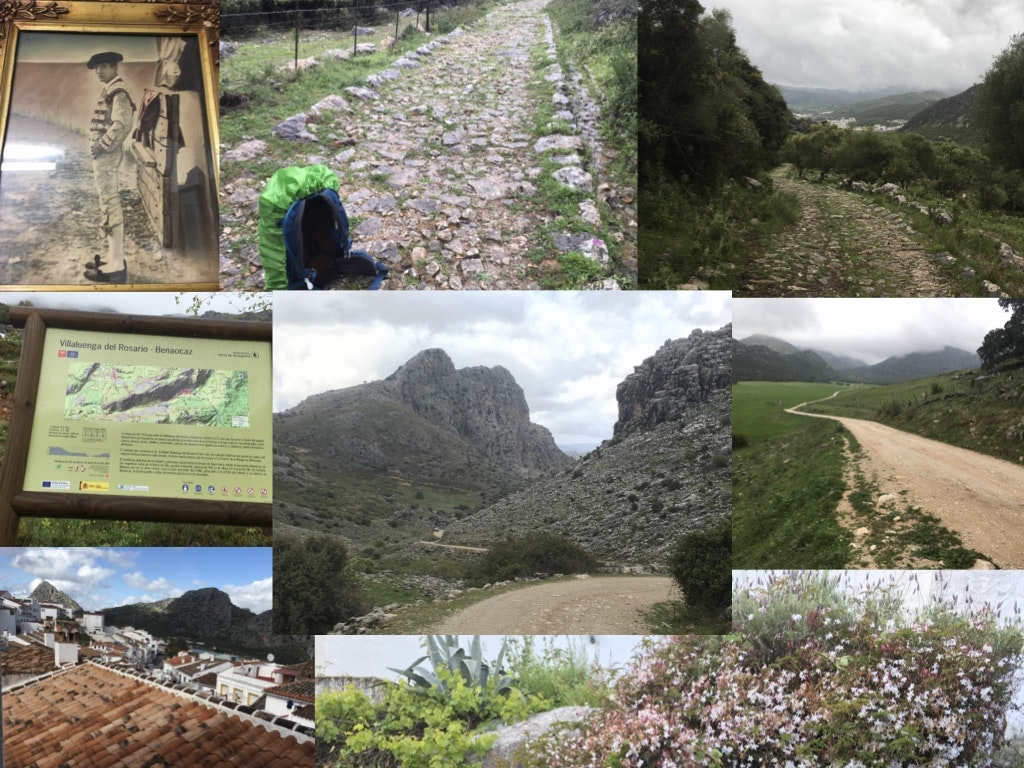 Day 4. Climbs and more climbs through ancient passes through the mountains. Hiking through Sierra de Grazalema park which is a little like Wales - wet with the odd encounter with a lonely sheep farmer who can communicate with his sheep but not humans; typical is a nod if u r lucky or a strangulated 'ola' more la with minimal 'o'. Otherwise sheer hiking joy and a great workout for my knees. Which will be replaced at the next village hopefully. Breakfast was at a bullfighting cafe and I was charged 70p. Seriously - no bull...Left last nights accom - the Spanish landlady communicated with my via a speak into my phone google translate App; my God it was painful. So we each had to speak to her phone in order to make each of us understood. So though today was a wet and cold day (that's what you get when y go to Wales) I'm now hiking my way out of the national park, heading East and am bound for Ronda and beyond - out of the window of my room I see the first sun of the day.
When you arrive in the 'hidden village' (the name it's been called since centuries ago) of Montejaque you are confronted with the usual maze of narrow streets - and barely a soul around and then an old fella appears as if my magic and you ask the way to your hotel; he proceeds to take you there. Later I can't find the restaurant and lo another fella appears as if my magic in a village akin to the Marie Celeste and proceeds to take me to the restaurant. The kindness of strangers. The restaurant offers the best food I have eaten thus far, see pic, and with delightful views from terrace of the garden if Eden below and a giant jasmine bush outside. Chef from Romania (correction - Italy), waiter from Brazil and owner from Barcelona. Clientele from Europe. Even in a small village the world is a village - that's what the Brexit heads don't get and won't accept.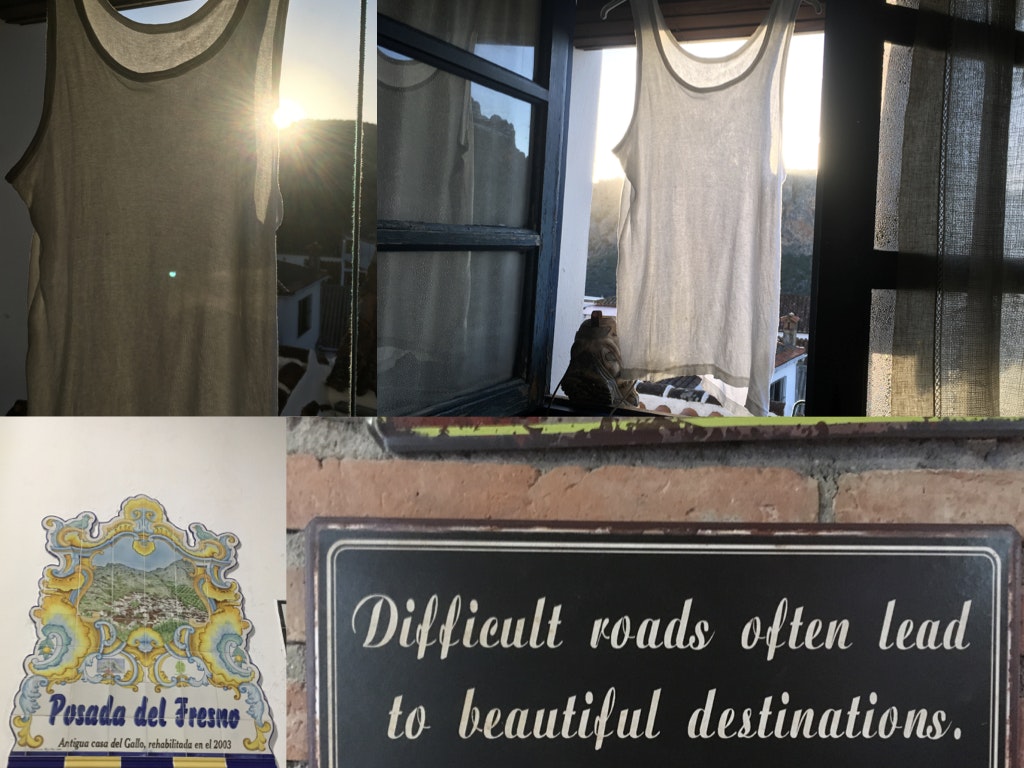 Day 5, Stage 6.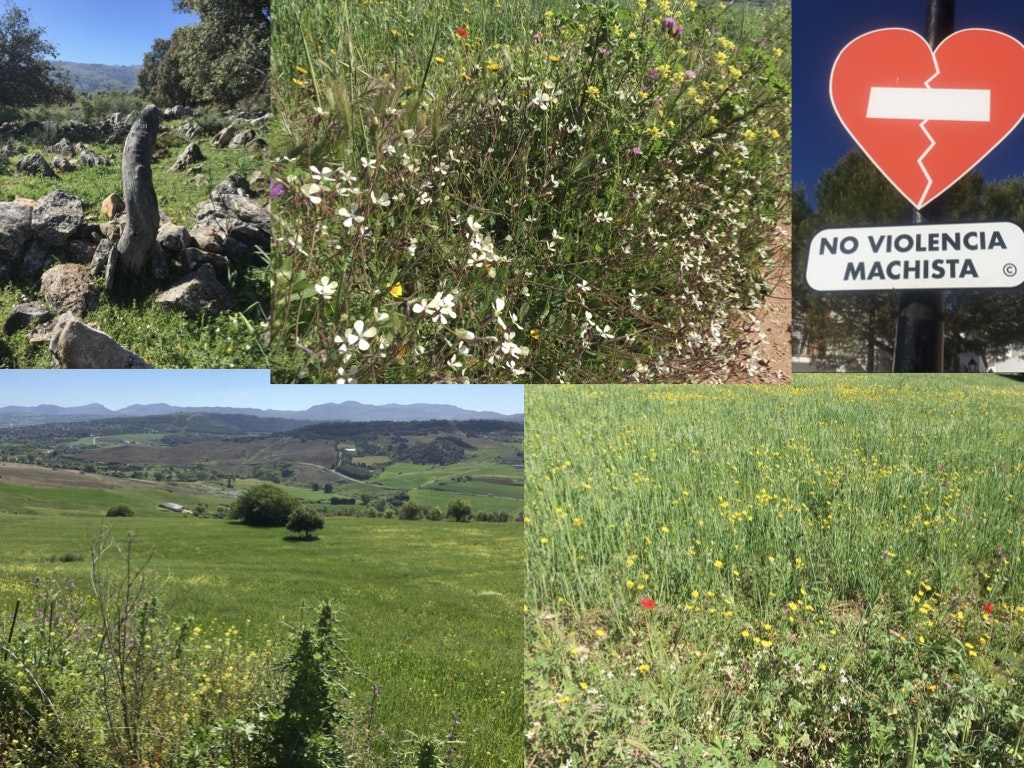 Day 5. Climb up and up to Ronda and down and up again to town (or is it village ?) of Arriate. Stunning valley and fields of flowers on way to Ronda. Glorious sunshine after 2 days of rain and chills. By a happy accident I am in a spa hotel and have taken full advantage of a whirlpool (is that what it's called?) and pummelled my knees and aching backside with jets of water. So that might stave off the knee replacement job for a while. This is the kind of village where they have 2 policemen directing traffic due to the narrow main road here who are happily chatting away to groups of locals and blowing a whistle every now and then. Tomorrow 9 and a half hour hike up and over hills ad infinitum. I figure it's 10 hours for me allowing for knee fatigue and photo opportunities. Incidentally no restaurant opens before 8 here so a bag of nuts is quite handy. I must be nuts…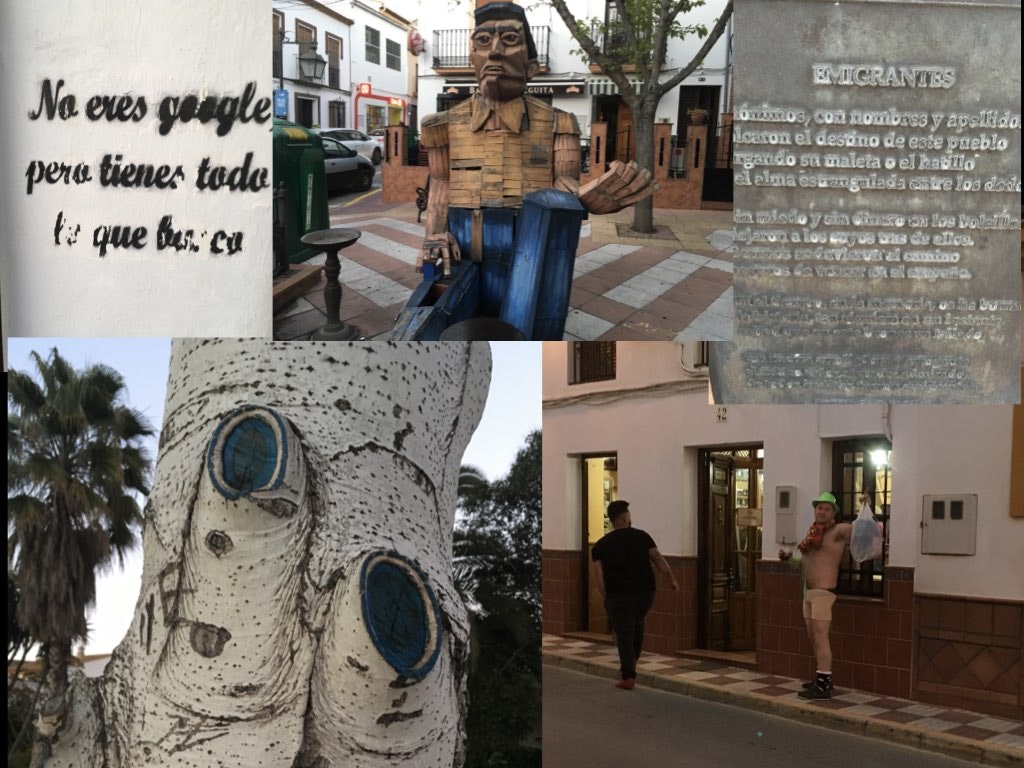 Arriate - the night time report: well, lots of sculptures, a cat painting, a proclamation about google (I think), a tree with fingers, a nice bodega with traditional tapas (the first I've seen), a Main Street choked with thru traffic, a man serving sweets out of a hole in a wall (the last survivor of the infamous 'hole in the wall gang' no doubt), a tribute to immigrants (I've never seen the like anywhere in the world before) featuring a man with a suitcase (unless I have misunderstood yet again and it's a tribute to a travelling salesman) and oh - a man in his underpants and little else who, when I first saw him was tied to a tree with reams of cello tape. He posed for me on the street. As you do. Well the West End of London can't compete with this.
Day 6, Stage 7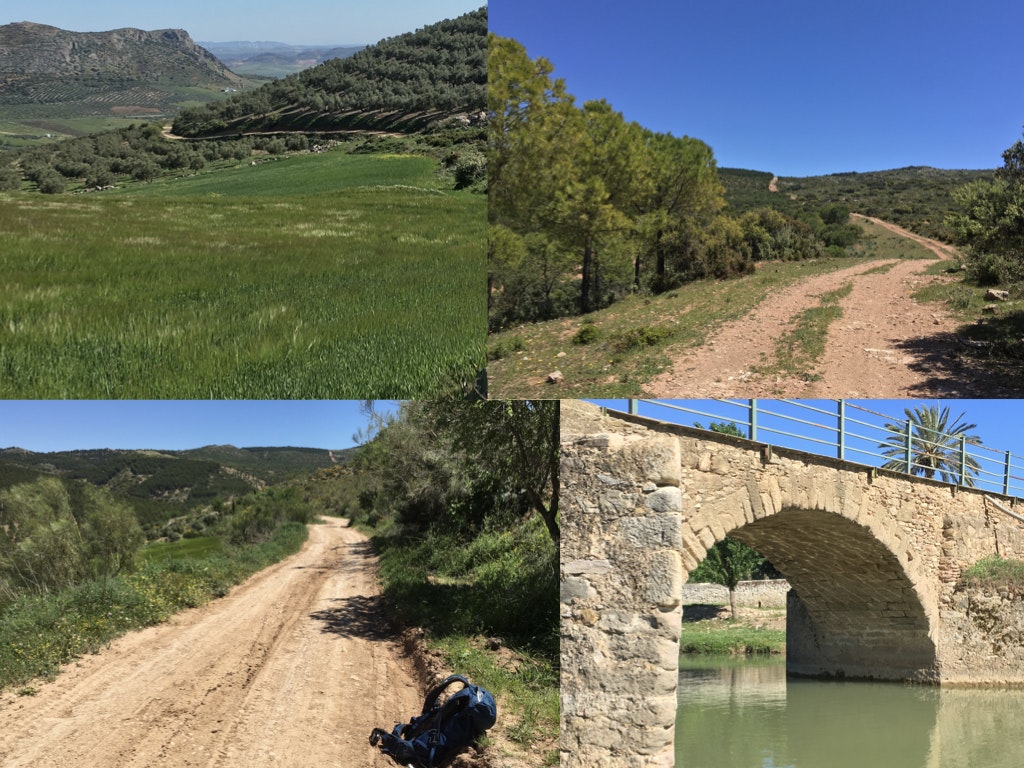 Day 6 - I've arrived in Ardilles. Officially a 9hr and half walk but I broke my self declared world record and crossed the rubicon in 9.10. So the town came out to greet me with a large medal of olive leaves. Temperatures have soared to 23 - feels hotter - and are set to go to 27. My feet will be traumatised in the next few days as the walks - that's an understatement- now get longer and I have my rust blister as a badge of honour. Scenery enroute was magnificent with a long arduous climb over a mountain pass at around 800 plus metres but crowned with magnificent views. Walking through fields of oak, olives and almond trees. Now at the hotel which is actually a cavernous restaurant with added rudimentary rooms above. All day I have walked to a soundtrack of bird song and the wind chiming through the pines but now the shrill sounds of huge groups of farmers and wives is like a barrage of sound - the men all talk at once and the women have very shrieking voices that bounce up and down in this concrete hanger of a restaurant. Having said that the staff - who work like demons - are friendly and warm. My knees are threatening to go on strike as they continue to take a pounding and yet my confidence in myself to go the distance increases by the day. We shall see!
Day 7, Stage 8/9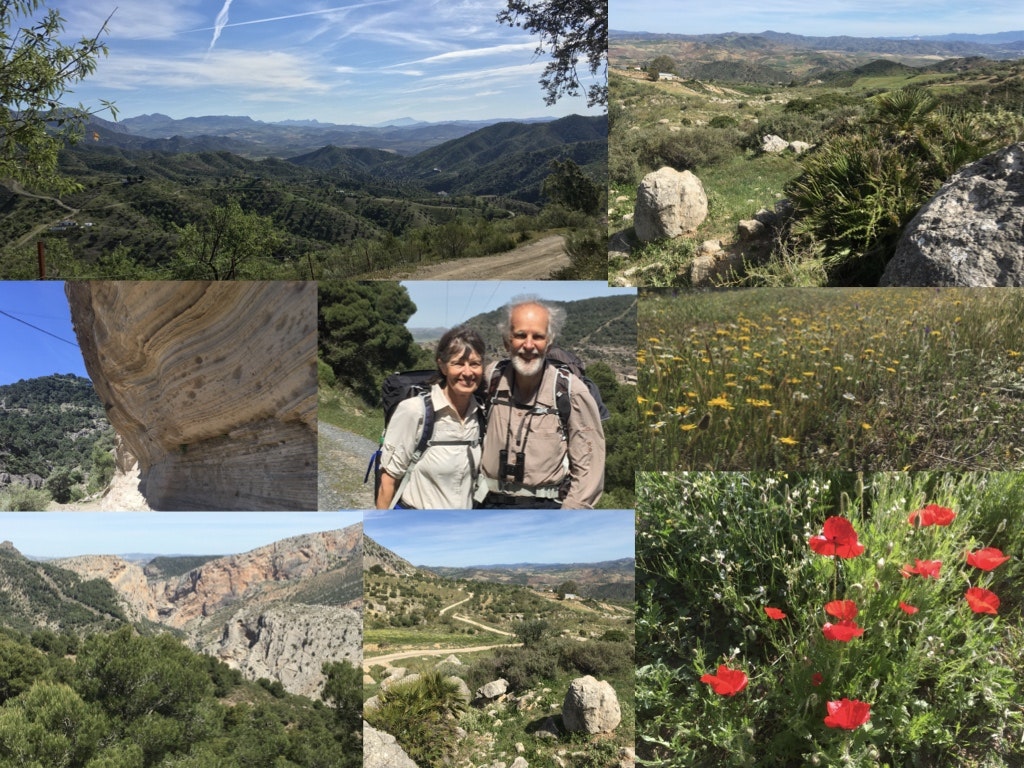 Day 7 - what a sweat drenching slog as the temperature continued to soar. Arrived in Valle de Abdalajis at 6 but the afternoon heat took its toll. Stunning rock formations, Griffin Vultures soaring above and below the famous canyon at El Chorro with its precipitous walk alongside the cliffs and the 400 metre chasm below. Met my first long distance hikers - two retired Englishmen camping and a wonderful older couple, he from England and she a Kiwi (pictured) who were walking the coast-to-coast long distance; they were an absolute marvel and so intrepid, great fun. The scenery is spellbinding at times. I was so spellbound I got lost and ended up having to make a big climb in the middle of the afternoon to find the track. The heat is a real worry now - 24 forecast tomorrow and 26 on my penultimate day when I face a daunting 45 kilometre hike. I don't think I've ever walked that far before either. Walking at a height of 900 metres you are very exposed and the climbs are exhausting. Tomorrow start at 7 with expected 9.5 hour walk.
Day 8, Stage 10/11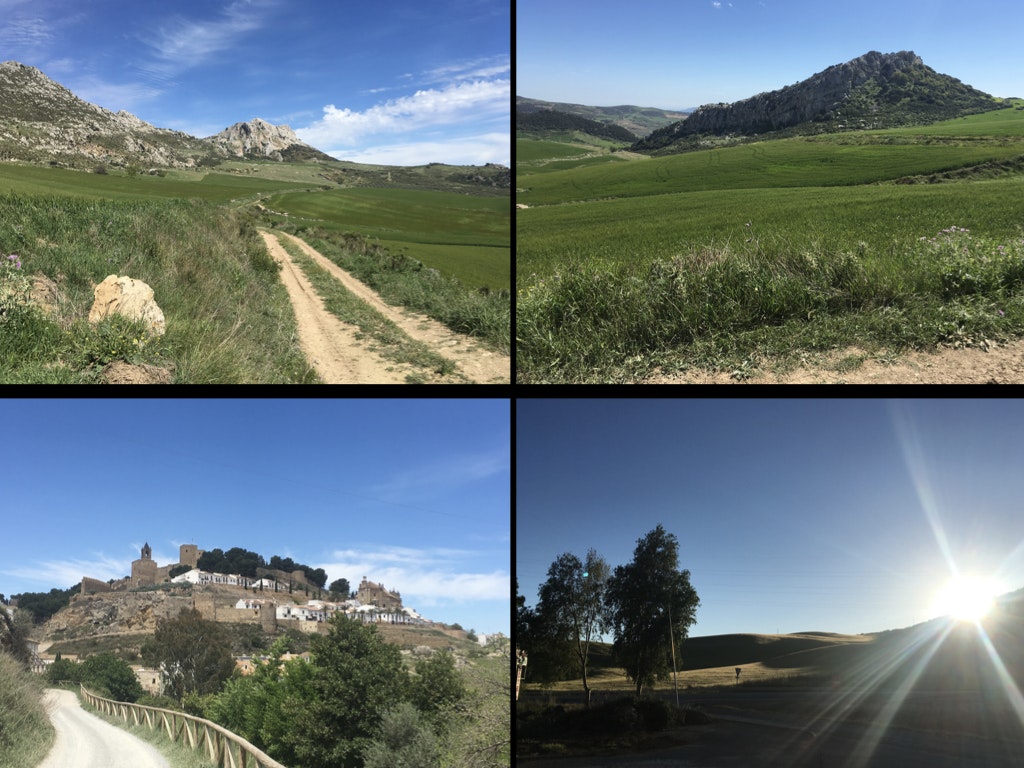 Day 8 - punishing walk of 35 k. Arrived after 10 hours and two wrong turns and tripping over my shoe laces. Sublime scenery but strength sapping climbs in blistering heat with 26 forecast tomorrow when I face a 45k 11 and half hour walk. Last of the big hikes tomorrow. Staying in a lovely family run small hotel next to the motorway. Fantastic food! It's like a truckers place but it's just me and two Irish hikers here. They've given me rm 101 (!) and the usual soap condiments which follow me round like old friends waiting to greet me in each new bathroom. The bar features the best hams hanging in a symmetrical arrangement. So tomorrow - I really don't know if I can hike that far in high temperatures with climbs of over 900 metres. I guess I have to put one foot in front of the other ad infinitum.
Day 9, Stage 12/13 (Southern Route)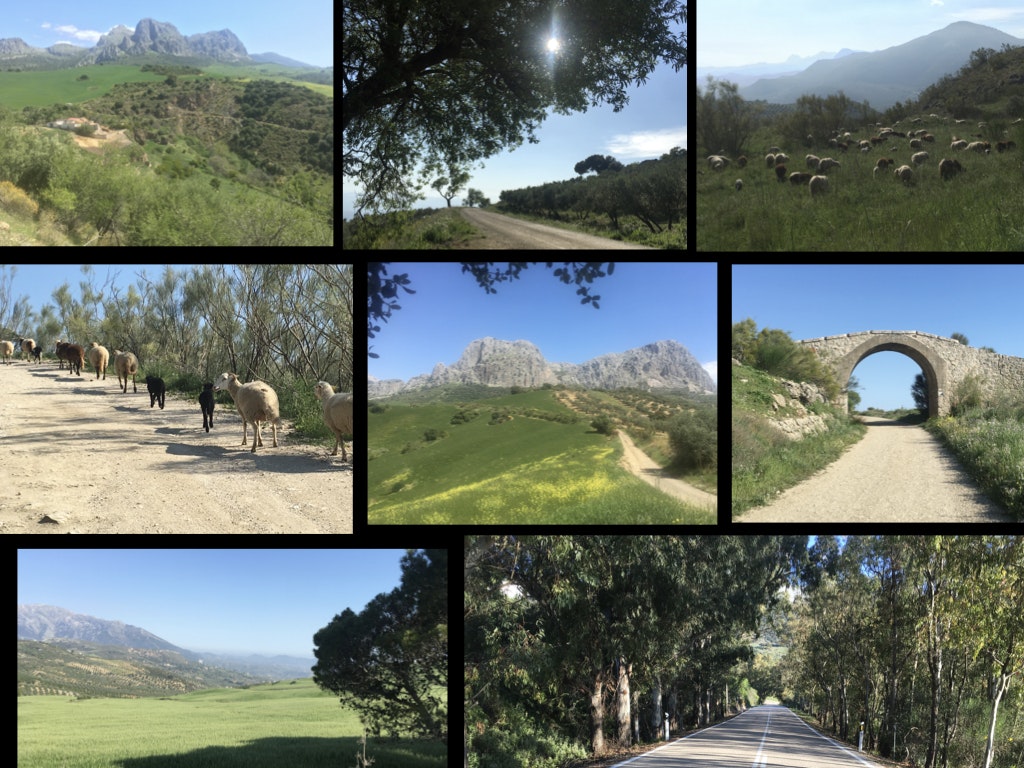 Day 9 - Stages 12 and 13; 46 k or 28.5 miles (in old money) walked in temperatures that were upwards of 26 celsius. Left at 6.30 am in the dark and arrived at 7pm so a hell of a day. To sum up - it was heaven and it was hell; one of the most thrilling things I've ever done, I really didn't know if I could cover that distance; if I had it in me (especially with major climbs to 900+ metres on two occasions). The heat is a killer though and twice I got lucky - 'a simple twist of fate' as Bob Dylan might of said - when a farmer told me I could drink from a pipe coming out of the ground and then a woman gave me water. The bucolic pleasures of the landscape were just captivating. I don't think I have ever given my legs so much sustained punishment. It may be heaven it may be hell but it's worth it. There is something about this landscape and the people that in the late afternoon sun just feels so timeless and soulful. Hard to put into words so I will stop.

Day 10 Stage 14 (Southern route)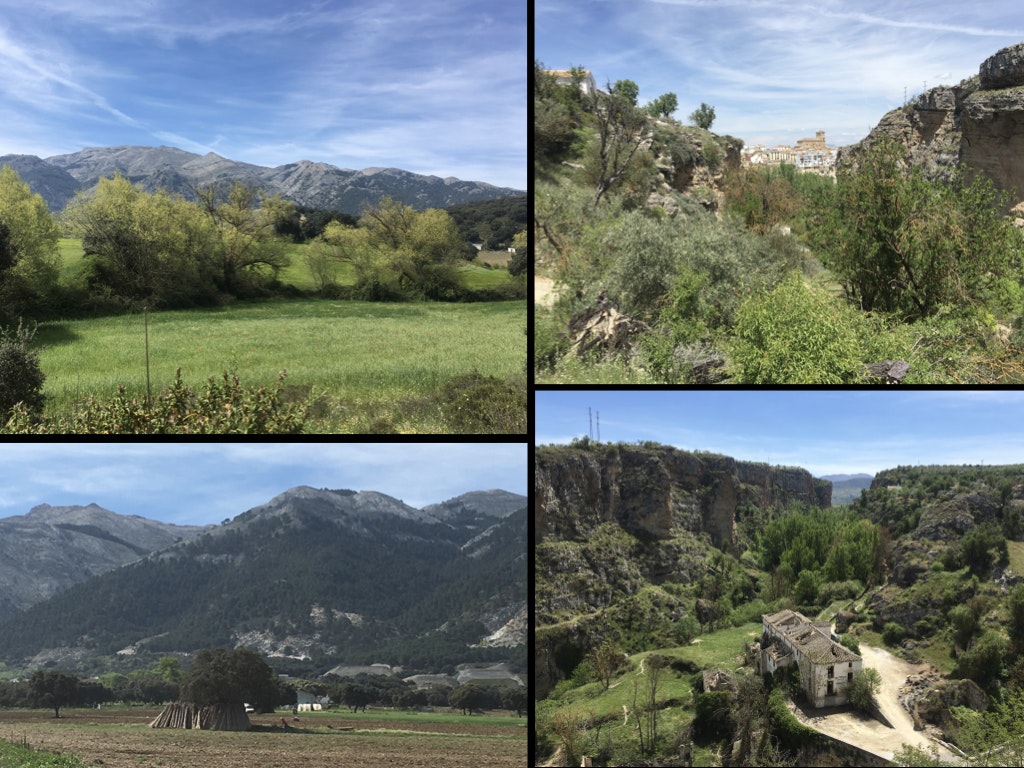 Day 10 - final day, short walk to Alhama de Granada. Legs weary after the long march yesterday. Now ensconced with Jimmy and Antonia in their wonderful home in the village of Albunuelas in the sweet smelling Lecrin valley - which has the aroma of oranges and lemons. That's my view through the window. No more walking but 285 k is enough for now ! My feet are up as I hear the church bell echoing up the valley calling the faithful to prayer. If I've learnt anything it's - Faith in oneself.

The end...Albuñuelas, with Jimmy and Antonia at Cortijo del Pino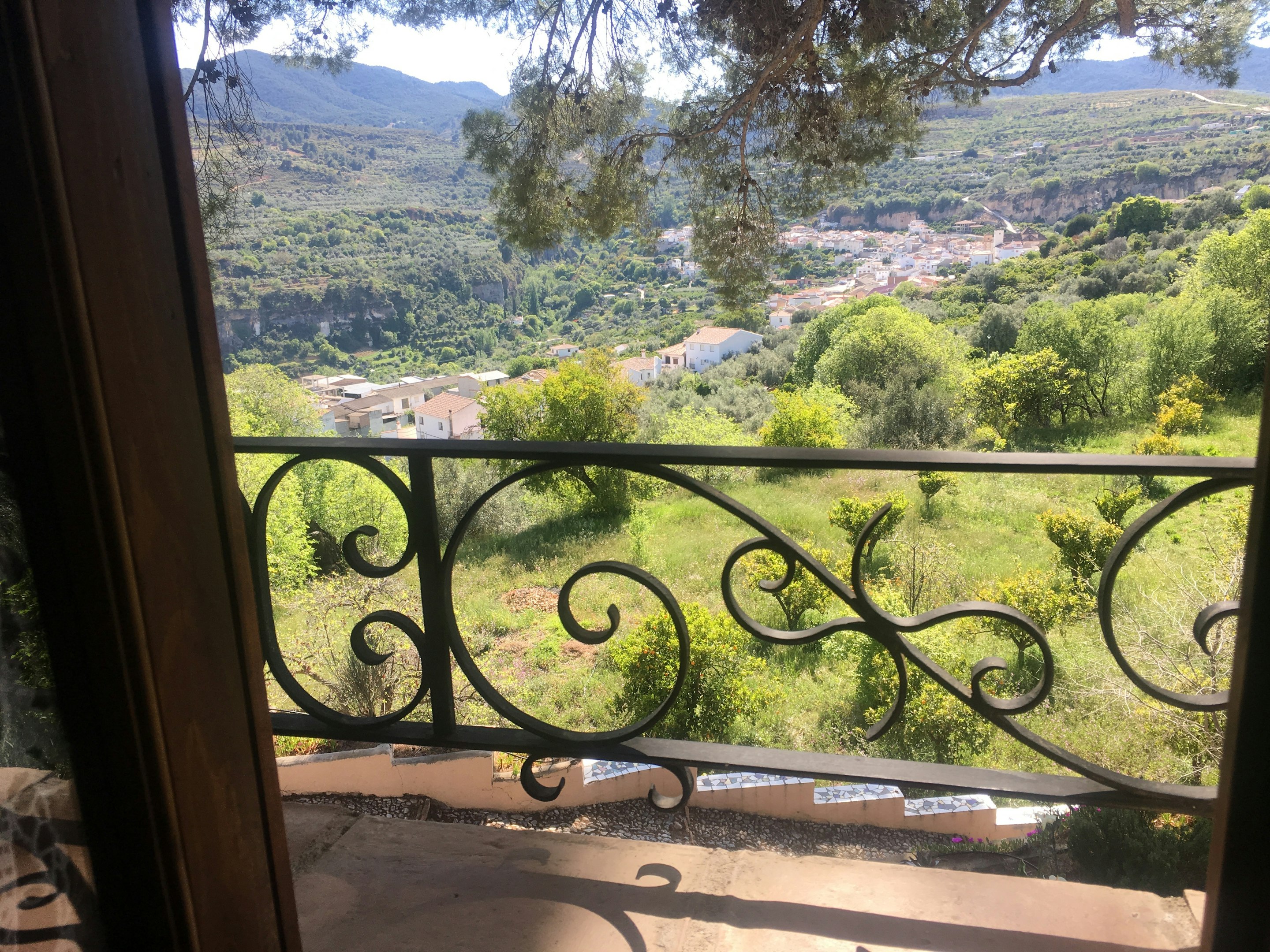 ---
Tim Langford is an award winning freelance writer, tv director and corporate film-maker; with a reputation for visionary and innovative story telling techniques, flair and ideas. He's pragmatic, imaginative and client friendly.